4 "Church Staff Positions"
PART TIME WORSHIP LEADER, BLISSFIELD MI
Solid Rock Missionary Church in Blissfield, MI is looking for a part-time worship leader. The primary responsibility of the worship leader will be to lead our congregation into the experiential presence of God. The worship set draws songs primarily from artists such as Bethel, Hillsong, Tomlin, and Crowder, with a respectful nod to traditional hymns. Strong gifting commensurate with this kind of worship set, is therefore desired. This person is directly accountable to the Senior Pastor. The candidate will possess an adaptable skill set and leadership capabilities, which will enable a worship ministry to grow the current worship team members as well as recruit new ones. INTERESTED CANDIDATES: Please submit your resume (in PDF form), including 3 references, to the following email address:
dfrancese7@gmail.com
. Please use ATTENTION: WORSHIP LEADER SEARCH as the subject line of your email. Please include links to any social media platforms where you actively post photos or videos. Thank You.
(Posted 06/24/2019) - Ad #627
---
SEEKING VOLUNTEER CHAPLAINS TO MINISTER TO TRUCK DRIVERS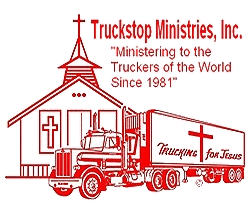 Truckstop Ministries, Inc. (a Bible-based 501(c)3 ministry founded in 1981) is seeking men, called by God, to minister to Truck Drivers in the United States. Don't worry, you will be trained. We have hundreds of volunteers around the country, but it isn't enough. TMI's vision is to establish a Chapel at every truck stop, open 24 hours a day, seven days a week. (See our current list of locations online at
www.bit.ly/TMI_Locations
). If you are interested in learning more, please visit our website at
www.truckstopministries.org/chaplain-application
, or you may call us at 770-775-2100. [Chaplain positions are UNPAID ONLY.]
(Posted 06/07/2019) - Ad #621
---
YOUTH PASTOR DIRECTOR, CORTLAND NY
Grace Christian Fellowship is located in the Finger Lakes region of NY just south of Syracuse and north of Binghamton. We are conveniently located just off of route 81 right between the towns of Homer and Cortland NY. Grace is a non-denominational Bible Church with a proud Baptist heritage changing its status in 2004 when we relocated to our new facility and entered into a new chapter of ministry.Theologically we align closely with the Evangelical Free Church which our Senior Pastor has his ordination through. The congregation at Grace is roughly 700 people on the weekends at our two contemporary worship service hours. The Youth Ministry has 80-100 teens involved in Youth Group and Sunday mornings. Our vision at Grace is to be an equipping ministry where we make disciples by equipping the saints for service.The purpose of the Youth Ministry at Grace Christian Fellowship is about providing leadership, discipleship, and direction for the Teens of Cortland NY. The primary focus should be on integrating teens from the Homer and Cortland area and surrounding communities into the Youth Ministry at GCF. The Youth Pastor will also be responsible for building and equipping an effective adult leadership team, producing excellent Youth Group experiences, and leading strong on the weekend.If you are interested in this position please send your resume and cover letter to Nick Dunn at
ndunn@gcfcortland.org
(Posted 05/13/2019) - Ad #609
---
MINISTER OF MUSIC WANTED IN PAHRUMP NEVADA
Looking for a trained minister of music. To lead congregation Sunday AM and PM services. Must be Baptist in doctrine and willing to lead blended music program with no band. We are a growing Independent Baptist, non-Calvinist, church. Over the past four years from 16 to 225 in Sunday attendance. Must be self motivated, a worker, soul-winning will be required as part of job description.Please email
pastorjohnimorris@gmail.com
for more information.
(Posted 05/06/2019) - Ad #608
---